Anonymous:
in your opinion, can a person ever be too old to wear all these bracelets that are out in the market now? or too many at once? I already wear a silver bracelet on one wrist an a watch in the other. btw, I'm in my early 30's.
Wrist Game x Grown Men.
A lot of men are subject to some type of uniform.  And if you're not, then good for you.   Enjoy it.
But no matter what, it's great to bring a little personality to the table.  Regardless of your age.  Older people still have a personality, don't they?
There is no age limit on wearing bracelets.  You just have to be careful as to what you choose to put on your wrist.
Or else.
Scene:
Me: 
Oh I've chosen my bracelets carefully Anon, perhaps you should have done the same. 
Anon:
 This is blasphemy,

This is FASHION.
Me: 
(pause, looks back at Tumblr dashboard)

Fashion?

THIS IS #MENSWEAR.
Kick to the chest.
Fin.
Just kidding, this isn't that serious of an issue.  Anyone can wear these.
Depending on your and what you do throughout the day, they do add a sense of yourself.  I have seen plenty of grown men wear beads/bracelets.  Just be aware of what you are wearing.  
For example: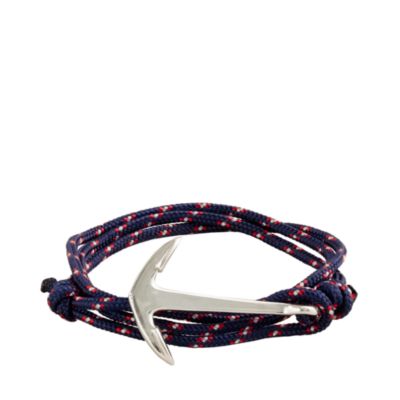 Personally, I would avoid ones that are overly sartorial.  Go for a more casual and refined bracelet.  The websites most of this man jewelry are featured on reflect their maturity.  J. Crew and Giles & Brother are more mature while AE and ASOS is for a younger crowd.
Unless you're Kanye West. 
In which case there is no difference.
Go silly band crazy.
Hope this helps!